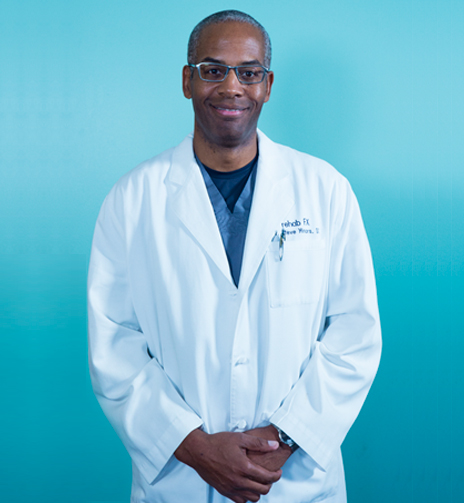 Originally from New York City, Dr. Minors received his bachelor's degree from the University of Pennsylvania and his Doctorate of Chiropractic from Texas Chiropractic College. Dr. Minors is married with three sons, Alex, Zane and Parker. He maintains an active lifestyle and wants the same for his patients.
Steve's other experience includes attending University of Texas Medical School for two years. During that time he realized that his true calling was to first encourage patients to be proactive and instead of reactive on their road to wellness.
Second, to get to and treat the primary cause of the patients complaint without having to use harmful drugs and surgery, which was what he was exposed to while attending medical school. Steve has also acquired knowledge from a nutrition externship and a rehabilitation preceptorship in a multidisciplinary setting. He has also performed rotations in neurosurgery and orthopedic surgery at the following hospitals in Houston, Texas: Methodist, St. Lukes, St. Joseph's, Hermann, Doctor's Hospital on East Loop, and Bayshore. Dr. Minors was a member of the Texas Board of Chiropractic Examiners where he was the Rules Committee Chairman, and lectured at the University of Houston. He was a member of the Medfx consulting team that worked with the Research and Oversight Council on House Bill 3697 concerning the Texas Worker's Compensation System, and in the review of the State of Washington Worker's Compensation Independent Medical Examination process. He was a program director at Austin Pain Therapy Associates as well as a member of the Texas Chiropractic College Board of Regents where he served as Chairman of the committee for Institutional Advancement.
The McKenzie method allows Dr. Minors to evaluate the musculoskeletal system efficiently, and is able to render care that is oriented around the patient's condition and lifestyle. Utilizing the McKenzie method has also reduced the treatment time which allows the patient to continue performing or return to activities that are important to them!. More Information About the McKenzie Method.
As a rehabilitation specialist, Dr. Minors treats non-surgical and surgical conditions including spine, shoulder, elbow, knee, and foot. The exercises he gives patients are aimed at being simple yet effective, so that they may be performed at home or the workplace. Dr. Minors has several hundred clinical hours in rehabilitation.